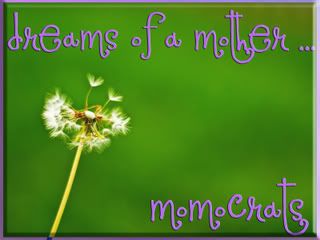 MOMocrats readers wrote passionately and eloquently this weekend in support of MOMocrats Dreams of A Mother Mother's Day tribute. We thank all of you for joining us and encourage our readers to go check out these beautiful posts.
Aliki with some thoughts on motherhood
Mary with broken string
Maggie with dreams for our children
Urban Urchin with a mother
Amy with this mother's dream
Arleen with dreams of a mother
Tracy with dreams of a mother
Daisy with her post at compost happens
Ilinap with irony of motherhood
Diana with will dream for children
Amy with a mother's dream
Emily with alternative mother's day
Moondance with if i were a superhero
We thank each of you for joining our chorus and dreaming a little bigger this Mother's Day in the interests of our children and our planet.